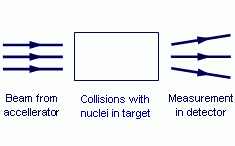 What is particle physics?
The aim of particle physics is to study the fundamental building blocks of nature and the forces they exert on each other.
A typical fixed target experiment consists of taking particles from a machine called an accelerator, colliding them with atomic nuclei in a target, and measuring what comes out in a machine called a detector (see scheme on left).
The bubble chamber, which served particle physics well for about 40 years, playing a crucial part in establishing the quark-parton model, is special because it is both target and detector:
A tank full of liquid hydrogen contains proton targets
Charged particles travelling through matter lose energy by ionizing atoms. If one can record this ionization before the electrons and ions re-combine, we have a detector. In the bubble chamber, the energy imparted to electrons by charged particles travelling through creates trails of bubbles along the paths of the charged particles. These can be photographed, providing a permanent record of where the charged particles went – a bit like the vapour trails of aeroplanes.
So, the proton nuclei are the targets, and the electrons do the detecting.